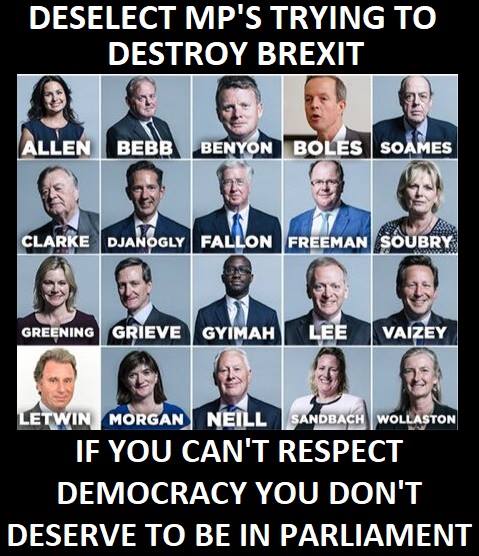 If you live in one of the 23 constituencies that voted leave but have a Conservative MP who is supporting remain, here is how to get rid of them!
If you live in one of these constituencies, then you have:
1) A Conservative MP who rejects the result of the Brexit referendum.
2) A Conservative MP who is reneging on the manifesto that they were elected on.
3) A Conservative MP who was selected by the local Conservative Association to be the Conservative candidate.
Many people vote for a 'party' based on what they hear at the national level, and on the parties national manifesto. These voters trust the local association to put forward a candidate that will deliver on these national issues (as well as relevant local issues).
Your local Conservative association have complete failed in this task, they have broken the trust of every voter in the constituency by delivering an MP who opposes the national will, opposes the constituencies will and opposes the will of the Conservative party.
The local association cannot evade the responsibility they have for having tricked voters into electing a candidate who now rejects what they claimed to stand for at the time of election and now only stands for their own selfish interest.
The local association must be left in no doubt that you hold them responsible for tricking you in this way, and that the very least they must do is show that they accept responsibility for their mistake by deselecting the MP as their candidate in the next and in all future elections.
It would be a foolish person who trusted the associations selection of candidate in future, and a very, very foolish person to do so if they do not respond to this request to deselect the sitting MP as soon as the party rules allow.
Conservative MP's in Leave Constituencies who are supporting Remain.
Constituency
MP
Association Address
Banbury
Victoria Prentis
North Oxfordshire Conservative Association, Orchard House, Hopcraft Lane, Deddington OX15 0TD
Arundel and South Downs
Nick Herbert
Arundel & South Downs Conservative Association, 38 High St, Steyning BN44 3YE
Chichester
Andrew Tyrie
Chichester Conservative Association, St Johns House, St Johns Street, Chichester PO19 1UU
Aylesbury
David Lidington
Aylesbury Conservative Association, 100 Walton St, Aylesbury HP21 7QP
Tonbridge and Malling
Tom Tugendhat
Tonbridge, Edenbridge & Malling Conservative, 9 Commercial Rd, Paddock Wood, Tonbridge TN12 6EN
Reading West
Alok Sharma
Conservative Association, 16C Upton Rd, Reading RG30 4BJ
Meon Valley
George Hollingbery
Meon Valley Conservative Association, Alresford SO24 0QT
Bracknell
Phillip Lee
Bracknell Conservative Association, 10, Milbanke Court, Milbanke Way, Bracknell RG12 1RP
Basingstoke
Maria Miller
North East Hampshire Conservative Association, The Mt, Bounty Rd, Basingstoke RG21 3DD
Sevenoaks
Michael Fallon
Sevenoaks Conservative Association, Watermill House, Chevening Rd, Chipstead, Sevenoaks TN13 2RY
East Surrey
Sam Gyimah
East Surrey Conservative Association, 83 Bell St, Reigate RH2 7AN
Maidstone and The Weald
Helen Grant
Maidstone and The Weald Conservative Association, 3 Albion Place, Maidstone, ME14 5DY
Worthing West
Peter Bottomley
West Worthing Conservative Association, 21 Tarring Rd, Worthing BN11 4HP
Hastings and Rye
Amber Rudd
Hastings & Rye Conservative Association, Swallow House, Theaklen Dr, St Leonards, Hastings, Saint Leonards-on-sea TN38 9AZ
Bexhill and Battle
Huw Merriman
Bexhill & Battle Conservative Association, 6A Amherst Rd, Bexhill-on-Sea TN40 1QJ
Faversham and Mid Kent
Helen Whately
Faversham & Mid Kent Conservative Association, 8 Faversham Road, Lenham, Maidstone, ME17 2PN
Ashford
Damian Green
Conservative Association, Address, Hardy House, The Street, Ashford TN26 3AG
Folkestone and Hythe
Damian Collins
Folkestone and Hythe Conservative Association, 4 Westcliff Gardens, Folkestone, Kent CT20 1BR
Gosport
Caroline Dinenage
Gosport Conservative Association, 167 Stoke Rd, Gosport PO12 1SE
Havant
Alan Mak
Havant Conservative Association, 19 South St, Havant PO9 1BU
Dover
Charlie Elphicke
Dover & Deal Conservative Association, 54 The Strand, Walmer, Deal CT14 7DP
Rochester and Strood
Kelly Tolhurst
Rochester and Strood Conservatives, 19 Wemmick Cl, Rochester ME1 2DL
Bognor Regis and Littlehampton
Nick Gibb
Bognor Regis & Littlehampton Conservative Association, 2 Flansham Ln, Bognor Regis PO22 8NJ
And you may also like to distribute copies of this linked article to Conservative party members in the constituency…

https://www.conservativehome.com/platform/2009/05/john-e-strafford-a-short-guide-to-deselecting-your-mp.html
*Update*
One MP is already facing deselection! https://inews.co.uk/news/brexit/nick-boles-brexit-deselection-conservative-mp-norway-deal/