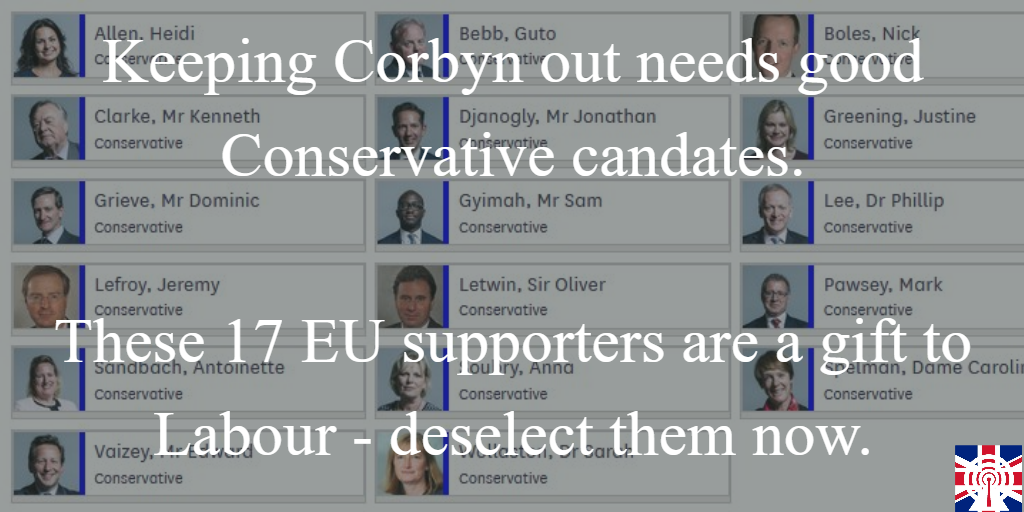 These 17 are the worst anti-democratic, anti-British, EU supporting Conservative MP's – but there are more… (See
https://www.radiofreeuk.org/blogs/paul/2019/01/15/how-to-get-your-remainer-tory-mp-deselected/
and https://facts4eu.org/news/2019_jan_undemocratic_mps).

If your MP is among them, then we urge you to write to your local conservative constituency association (address below). Write to the chairman of the constituency association even if you are not a member of the party, every constituent gets a vote and it is your vote that they want!

Tell the Chairman that if the sitting MP is their candidate in the next General Election then they will certainly not be getting your vote – and you will discourage as many other voters as possible to boycott the candidate, or support a different party.

You may also like to mention that you think that voters have been hoodwinked by the association for having put up a candidate who now directly opposes the Conservative manifesto that they were supposedly elected on.
MPs Association Addresses – note, write to the Chairman, not the MP!

Heidi Allen
South Cambridgeshire Conservative Association
153 St Neots Rd, Hardwick, Cambridge CB23 7QJ

Guto Bebb
Abberconwy Conservative Association
1 Ashdown House, Riverside Business Park, Benarth Road, Conwy, LL32 8YX.
Nick Boles
Grantham and Stamford Conservative Association
62 North St, Bourne PE10 9AJ

Ken Clarke
(Although he has said he is retiring, lets not take any chances…)
Rushcliffe Conservative Association
17-19 Rectory Rd, West Bridgford, Nottingham NG2 6BE

Jonathan Djanogly
Huntington Conservative Association
Centenary House, 3 St Mary's St, Huntingdon PE29 3PE
Justine Greening
Putney Conservative Association
3 Summerstown, London, SW17 0BQ
Dominic Grieve
Beaconsfield Conservative Association
Disraeli House, 12 Aylesbury End, Beaconsfield HP9 1LW
Sam Gyimah
East Surrey Conservative Association
83 Bell St, Reigate RH2 7AN
Phillip Lee
Bracknell Conservative Association
10, Milbanke Court, Milbanke Way, Bracknell RG12 1RP
Jeremy Lefroy
Stafford Conservative Association
Unit 15, Pearl House, Anson Court, Staffordshire Technology Park, Beaconside, Stafford, ST18 0GB
Oliver Letwin
West Dorset Conservative Association
Chapel House, Dorchester Rd, Maiden Newton, Dorchester DT2 0BG
Mark Pawsey
Rugby Conservative Association
Albert Buildings, 2 Castle Mews, Rugby, CV21 2XL

Antoinette Sandbach
Eddisbury Conservative Association
4 Church Walk, Tarporley CW6 0AJ

Anna Soubry
Broxtowe Conservative Association
97 High Road, Beeston, Nottingham, NG9 2LH

Caroline Spellman
Meriden Conservative Association
631 Warwick Road, Solihull, B91 1AR

Ed Vasiey
Wantage Conservative Association
Vale and Downland Museum, Church Street, Wantage, OX12 8BL