Uncategorised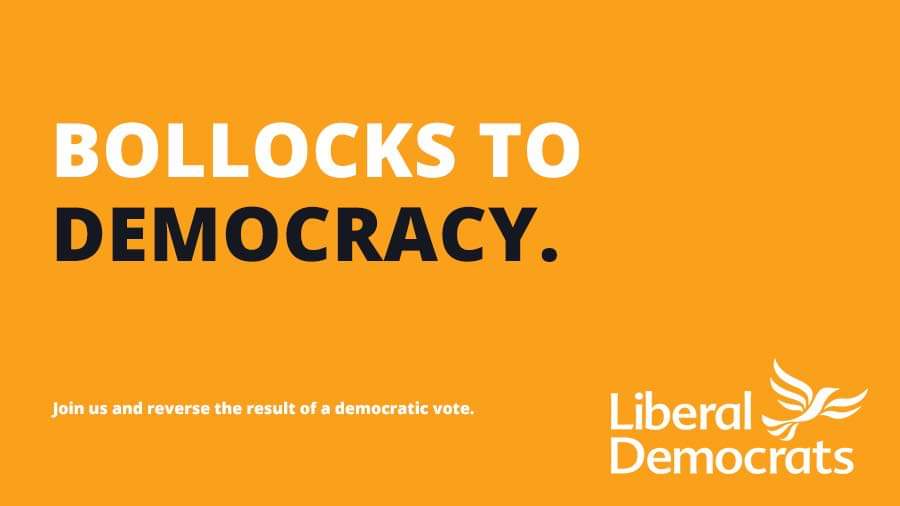 From 29 March the UK will be under the de facto jurisdiction of a group of 27 foreign powers, with no ability to veto laws or procedures affecting our country and its citizens
The EU27 can make decisions in Council behind closed doors, with no published minutes, which would profoundly affect British businesses, citizens, and the economy
The EU27 could even impose new taxes on the UK, and Parliament could do nothing about it
The EU27 could cripple the vitally-important UK financial sector, with new taxes and regulations
A major part of the Agreement (the Northern Irish Protocol) locks the UK into a permanent customs union with the EU, with no unilateral right of the UK to terminate
The Northern Ireland Protocol requires the Province to obey existing and new Single Market rules, with no say over them, and effectively splits off Northern Ireland into being a colony of the EU and the Republic, thereby breaking the United Kingdom in two
The UK will have no right to do international free trade deals – a key economic benefit of Brexit – because it must stick to protectionist EU tariffs. The British public cannot benefit from an independent trade policy resulting in much cheaper imported goods, nor can our exporters thrive
Any new EU trade agreements would require the UK to match the new lower tariffs, but the countries involved would not be required to reciprocate in respect of the UK
The UK would remain under the jurisdiction of the ECJ until at least the end of 2020 and the agreement makes provision to extend this until 2022
In some parts of the law, British courts would have to obey the ECJ for over 100 years – the lifetimes of as yet unborn children
The UK would not be a truly sovereign nation in the lifetimes of all reading this
The Agreement means the UK paying at least £39 billion, despite there being no legal obligation to pay anything like that amount, and with no new UK-EU trade deal guaranteed in return
The final amount taken from British taxpayers would be decided by the EU, and the UK would have no say because the ECJ would rule on this
Other aspects of the Agreement and Political Declaration would adversely affect the UK's autonomy in fishing, defence, foreign policy, competition law, state aid and many other areas of life
The Withdrawal Agreement and Political Declaration together lock the UK into a continuing and subservient relationship with the EU, agreeing to match and "build upon" current arrangements, giving away money, sovereignty, laws, and even decisions on the very composition of the United Kingdom itself.
© Brexit Facts4EU.Org, 28 Feb 2019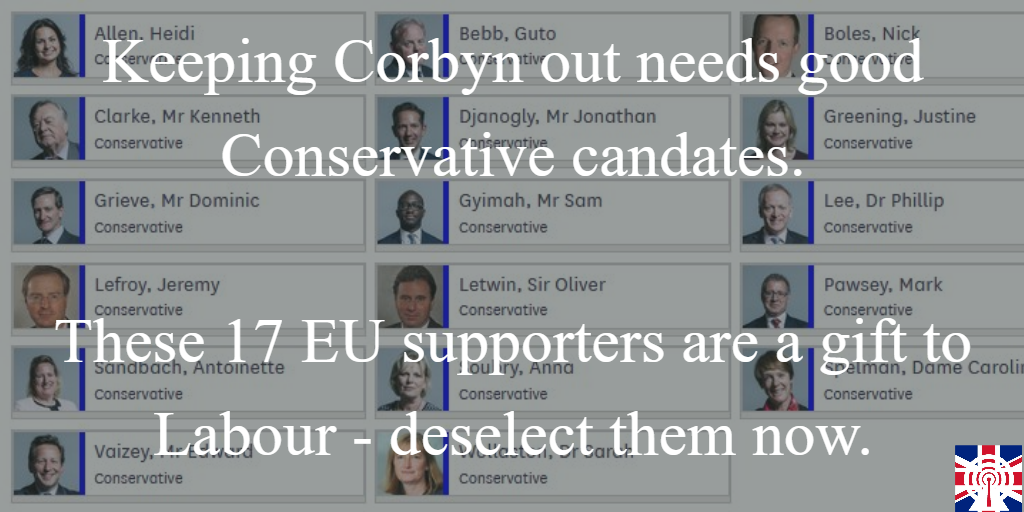 These 17 are the worst anti-democratic, anti-British, EU supporting Conservative MP's – but there are more… (See
https://www.radiofreeuk.org/blogs/paul/2019/01/15/how-to-get-your-remainer-tory-mp-deselected/
and https://facts4eu.org/news/2019_jan_undemocratic_mps).

If your MP is among them, then we urge you to write to your local conservative constituency association (address below). Write to the chairman of the constituency association even if you are not a member of the party, every constituent gets a vote and it is your vote that they want!

Tell the Chairman that if the sitting MP is their candidate in the next General Election then they will certainly not be getting your vote – and you will discourage as many other voters as possible to boycott the candidate, or support a different party.

You may also like to mention that you think that voters have been hoodwinked by the association for having put up a candidate who now directly opposes the Conservative manifesto that they were supposedly elected on.
MPs Association Addresses – note, write to the Chairman, not the MP!

Heidi Allen
South Cambridgeshire Conservative Association
153 St Neots Rd, Hardwick, Cambridge CB23 7QJ

Guto Bebb
Abberconwy Conservative Association
1 Ashdown House, Riverside Business Park, Benarth Road, Conwy, LL32 8YX.
Nick Boles
Grantham and Stamford Conservative Association
62 North St, Bourne PE10 9AJ

Ken Clarke
(Although he has said he is retiring, lets not take any chances…)
Rushcliffe Conservative Association
17-19 Rectory Rd, West Bridgford, Nottingham NG2 6BE

Jonathan Djanogly
Huntington Conservative Association
Centenary House, 3 St Mary's St, Huntingdon PE29 3PE
Justine Greening
Putney Conservative Association
3 Summerstown, London, SW17 0BQ
Dominic Grieve
Beaconsfield Conservative Association
Disraeli House, 12 Aylesbury End, Beaconsfield HP9 1LW
Sam Gyimah
East Surrey Conservative Association
83 Bell St, Reigate RH2 7AN
Phillip Lee
Bracknell Conservative Association
10, Milbanke Court, Milbanke Way, Bracknell RG12 1RP
Jeremy Lefroy
Stafford Conservative Association
Unit 15, Pearl House, Anson Court, Staffordshire Technology Park, Beaconside, Stafford, ST18 0GB
Oliver Letwin
West Dorset Conservative Association
Chapel House, Dorchester Rd, Maiden Newton, Dorchester DT2 0BG
Mark Pawsey
Rugby Conservative Association
Albert Buildings, 2 Castle Mews, Rugby, CV21 2XL

Antoinette Sandbach
Eddisbury Conservative Association
4 Church Walk, Tarporley CW6 0AJ

Anna Soubry
Broxtowe Conservative Association
97 High Road, Beeston, Nottingham, NG9 2LH

Caroline Spellman
Meriden Conservative Association
631 Warwick Road, Solihull, B91 1AR

Ed Vasiey
Wantage Conservative Association
Vale and Downland Museum, Church Street, Wantage, OX12 8BL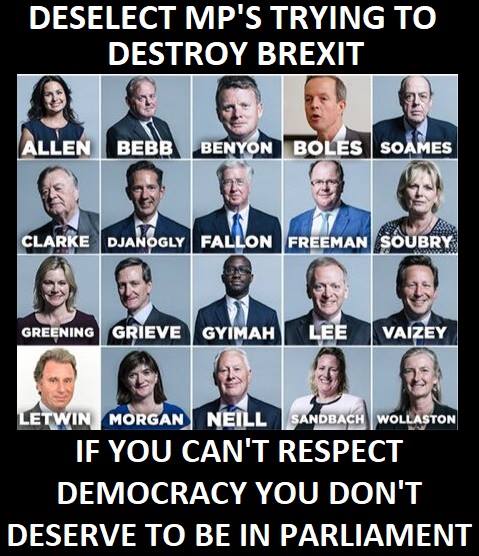 If you live in one of the 23 constituencies that voted leave but have a Conservative MP who is supporting remain, here is how to get rid of them!
If you live in one of these constituencies, then you have:
1) A Conservative MP who rejects the result of the Brexit referendum.
2) A Conservative MP who is reneging on the manifesto that they were elected on.
3) A Conservative MP who was selected by the local Conservative Association to be the Conservative candidate.
Many people vote for a 'party' based on what they hear at the national level, and on the parties national manifesto. These voters trust the local association to put forward a candidate that will deliver on these national issues (as well as relevant local issues).
Your local Conservative association have complete failed in this task, they have broken the trust of every voter in the constituency by delivering an MP who opposes the national will, opposes the constituencies will and opposes the will of the Conservative party.
The local association cannot evade the responsibility they have for having tricked voters into electing a candidate who now rejects what they claimed to stand for at the time of election and now only stands for their own selfish interest.
The local association must be left in no doubt that you hold them responsible for tricking you in this way, and that the very least they must do is show that they accept responsibility for their mistake by deselecting the MP as their candidate in the next and in all future elections.
It would be a foolish person who trusted the associations selection of candidate in future, and a very, very foolish person to do so if they do not respond to this request to deselect the sitting MP as soon as the party rules allow.
Conservative MP's in Leave Constituencies who are supporting Remain.
Constituency
MP
Association Address
Banbury
Victoria Prentis
North Oxfordshire Conservative Association, Orchard House, Hopcraft Lane, Deddington OX15 0TD
Arundel and South Downs
Nick Herbert
Arundel & South Downs Conservative Association, 38 High St, Steyning BN44 3YE
Chichester
Andrew Tyrie
Chichester Conservative Association, St Johns House, St Johns Street, Chichester PO19 1UU
Aylesbury
David Lidington
Aylesbury Conservative Association, 100 Walton St, Aylesbury HP21 7QP
Tonbridge and Malling
Tom Tugendhat
Tonbridge, Edenbridge & Malling Conservative, 9 Commercial Rd, Paddock Wood, Tonbridge TN12 6EN
Reading West
Alok Sharma
Conservative Association, 16C Upton Rd, Reading RG30 4BJ
Meon Valley
George Hollingbery
Meon Valley Conservative Association, Alresford SO24 0QT
Bracknell
Phillip Lee
Bracknell Conservative Association, 10, Milbanke Court, Milbanke Way, Bracknell RG12 1RP
Basingstoke
Maria Miller
North East Hampshire Conservative Association, The Mt, Bounty Rd, Basingstoke RG21 3DD
Sevenoaks
Michael Fallon
Sevenoaks Conservative Association, Watermill House, Chevening Rd, Chipstead, Sevenoaks TN13 2RY
East Surrey
Sam Gyimah
East Surrey Conservative Association, 83 Bell St, Reigate RH2 7AN
Maidstone and The Weald
Helen Grant
Maidstone and The Weald Conservative Association, 3 Albion Place, Maidstone, ME14 5DY
Worthing West
Peter Bottomley
West Worthing Conservative Association, 21 Tarring Rd, Worthing BN11 4HP
Hastings and Rye
Amber Rudd
Hastings & Rye Conservative Association, Swallow House, Theaklen Dr, St Leonards, Hastings, Saint Leonards-on-sea TN38 9AZ
Bexhill and Battle
Huw Merriman
Bexhill & Battle Conservative Association, 6A Amherst Rd, Bexhill-on-Sea TN40 1QJ
Faversham and Mid Kent
Helen Whately
Faversham & Mid Kent Conservative Association, 8 Faversham Road, Lenham, Maidstone, ME17 2PN
Ashford
Damian Green
Conservative Association, Address, Hardy House, The Street, Ashford TN26 3AG
Folkestone and Hythe
Damian Collins
Folkestone and Hythe Conservative Association, 4 Westcliff Gardens, Folkestone, Kent CT20 1BR
Gosport
Caroline Dinenage
Gosport Conservative Association, 167 Stoke Rd, Gosport PO12 1SE
Havant
Alan Mak
Havant Conservative Association, 19 South St, Havant PO9 1BU
Dover
Charlie Elphicke
Dover & Deal Conservative Association, 54 The Strand, Walmer, Deal CT14 7DP
Rochester and Strood
Kelly Tolhurst
Rochester and Strood Conservatives, 19 Wemmick Cl, Rochester ME1 2DL
Bognor Regis and Littlehampton
Nick Gibb
Bognor Regis & Littlehampton Conservative Association, 2 Flansham Ln, Bognor Regis PO22 8NJ
And you may also like to distribute copies of this linked article to Conservative party members in the constituency…

https://www.conservativehome.com/platform/2009/05/john-e-strafford-a-short-guide-to-deselecting-your-mp.html
*Update*
One MP is already facing deselection! https://inews.co.uk/news/brexit/nick-boles-brexit-deselection-conservative-mp-norway-deal/
There is no middle way with the EU. David Cameron tried to find one with his 'deal' – which was rejected by 17.5million voters in the UK in the EU referendum – now Theresa May is also trying to find this non-existent middle way with her rotten deal
There is no remain/brexit compromise, the only choice is in or out – and the people gave their decision over two years ago – when Leave beat Remain by 4% ( 52 – 48 = 4 ), this is not small number, this is not marginal, this is not slight. It is a very, very clear vote to leave – rejecting the useless compromises that our politicians propose.

Sign here https://petition.parliament.uk/petitions/229963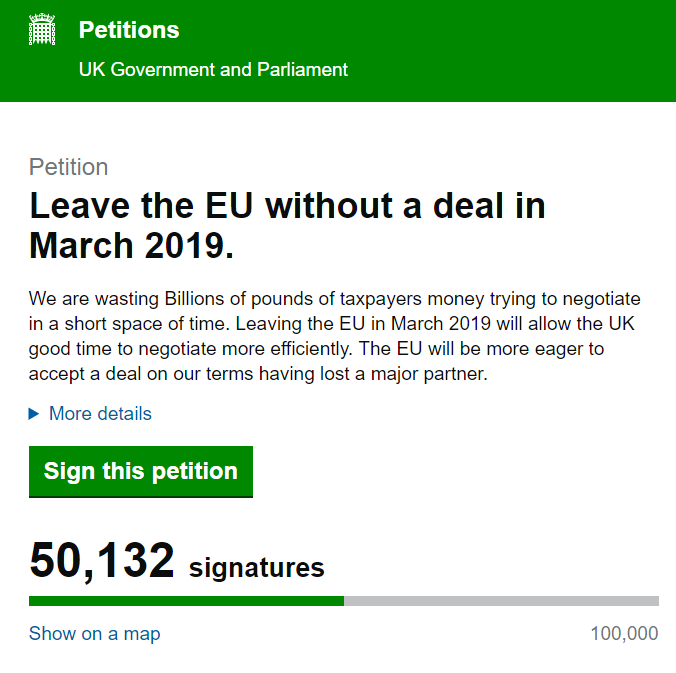 Re-broadcast of Nov 12 show.
* Duration: 39:46
* Published: 18/11/2016 8:57:03 p.m.
* Episode Download Link (14 MB): http://media.blubrry.com/libertynation/livearchive.radioamerica.org/loudwater/lib/000026063_000_000000081.mp3
* Episode Feed: Liberty Nation – http://live.radioamerica.org/loudwater/feed.pl?tap=81
Who is the FBI boss, James Comey? Major role for Shia militias in Iraqi offensive on Mosul; the Bollywood film caught up in India-Pakistan hostility
* Duration: 28:03, Played: 1:20
* Published: 30/10/2016 1:03:00 a.m.
* Episode Download Link (13 MB): http://open.live.bbc.co.uk/mediaselector/5/redir/version/2.0/mediaset/audio-nondrm-download-low/proto/http/vpid/p04dl2cb.mp3
* Show Notes: http://open.live.bbc.co.uk/mediaselector/5/redir/version/2.0/mediaset/audio-nondrm-download-low/proto/http/vpid/p04dl2cb.mp3
* Episode Feed: Global News – http://downloads.bbc.co.uk/podcasts/worldservice/globalnews/rss.xml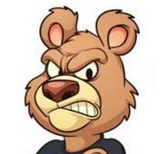 Anti SJW, Social Commentary. Sarcasm and vulgar language. All round degenerate

Follow me on Twitter: https://twitter.com/BrownBearEntert
Subscribe to me Minds: https://www.minds.com/BrownBear

We are always on the lookout for new contributors & here is a potential new voice.The Irate Bear.
Source: Meet the Irate Bear | Alan's Antics
The clean version!